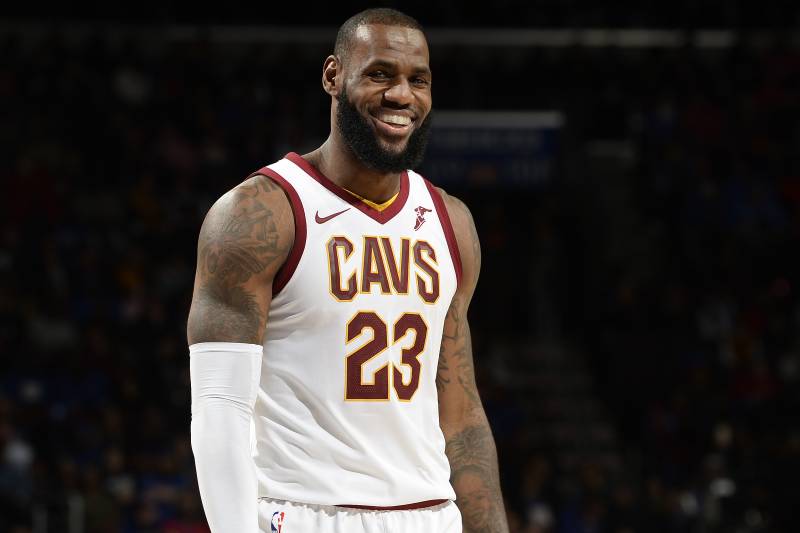 CLEVELAND — LeBron James sat in the back of his Mercedes-Benz Sprinter van on his way to Cleveland's Burke Lakefront Airport from where he and the rest of the Cleveland Cavaliers would depart for Atlanta. James, sporting a fresh haircut and beard trim, had Ace Ventura: When Nature Calls rolling in the background as he decided to break out his iPhone and record nearly three minutes of video to serve as a State of the Cavs Union.
After sputtering out of the gate, the Cavaliers sat at the quarter point of the season, riding a nine-game winning streak. The headlines surrounding Cleveland's struggles have, over the last two-plus weeks, morphed into inquiries about this being the real Cavaliers instead. While many were ready to crown the Boston Celtics the new kings of the Eastern Conference, the Cavs used the month of November to close the gap, thanks to a commitment to game plans and surprisingly strong play from a reserve unit that had previously looked old and out of shape.
During James' address, he managed to use the word "unbelievable" three different times, all of which were in reference to variables outside of his control.
"We're just playing good ball," James said, simplifying a nine-game stretch that has seen the Cavaliers produce the league's third-best net rating. "The rotations are unbelievable, and the coaches, the game plan they are giving us in unbelievable, and I just believe the players are getting more and more comfortable with each other. Offensively, we're moving bodies. Our bench [has] been unbelievable. The bench has been a difference in how successful we've been as of late."
James used nearly the entire segment to praise his teammates, naming each of the reserves one by one, as this streak has seen players like Dwyane Wade, Jeff Green and Channing Frye step up defensively in a way that has allowed the Cavaliers to steadily creep up the league's rankings.
While James is accurate in his assessment, he neglected to mention that he is also quietly putting up one of his best seasons as a professional, providing an array of MVP-caliber performances at nearly 33 years old.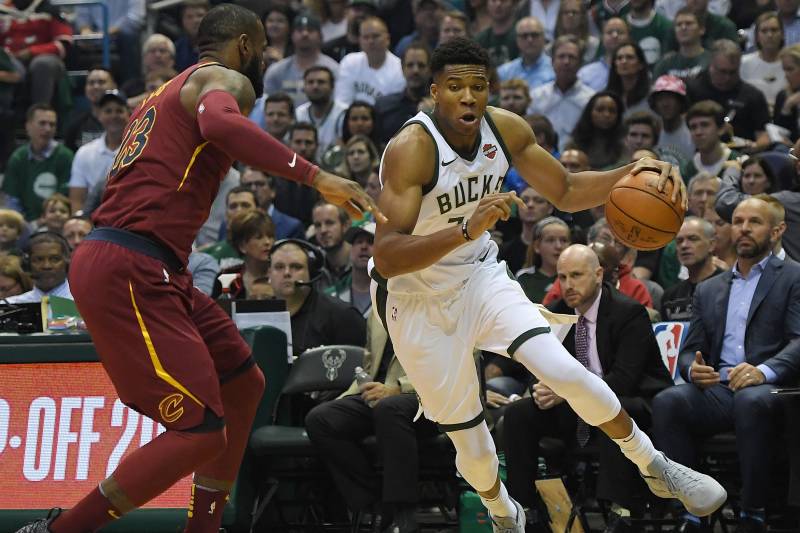 Stacy Revere/Getty Images
Despite putting up head-scratchingly great numbers while leading the Cavaliers to three consecutive NBA Finals, James hasn't won the MVP award in four years. After a two-year fascination with Stephen Curry, voters turned to Russell Westbrook when he averaged a triple-double over an entire season.
But Curry and Westbrook have seen their respective teams add All-NBA talent, diminishing their hopes of additional MVP campaigns, and narratives have formed for other potential first-time winners. Milwaukee's Giannis Antetokounmpo has a multi-part "MVP Watch" at ESPN's The Undefeated (despite his team barely being above .500). Boston's Kyrie Irving, since his late-summer move to the Celtics, has morphed into a social media darling (despite putting up numbers in line with his time in Cleveland).
While Antetokounmpo's gazelle-like fast-break opportunities range from extraordinary to jaw-dropping and the defensive-minded Celtics were able to rattle off a wild 16-game winning streak in the first month of the season, these younger players are still being outplayed by Old Man James.
James, in addition to being 3-0 against the Bucks and Celtics so far in 2017-18, is ahead of both players in Win Shares, Win Shares per 48 minutes, and Box Score Plus-Minus. He's third in the league in scoring, fourth in assists and atop the league in ESPN's Estimated Wins Added.
He has finished a season with a PER north of 30 four times in his career, and each time he won MVP. His current PER of 31.1 is his highest mark since the 2012-13 season, which happens to be the last time he brought home the award.
Aging Like Fine Wine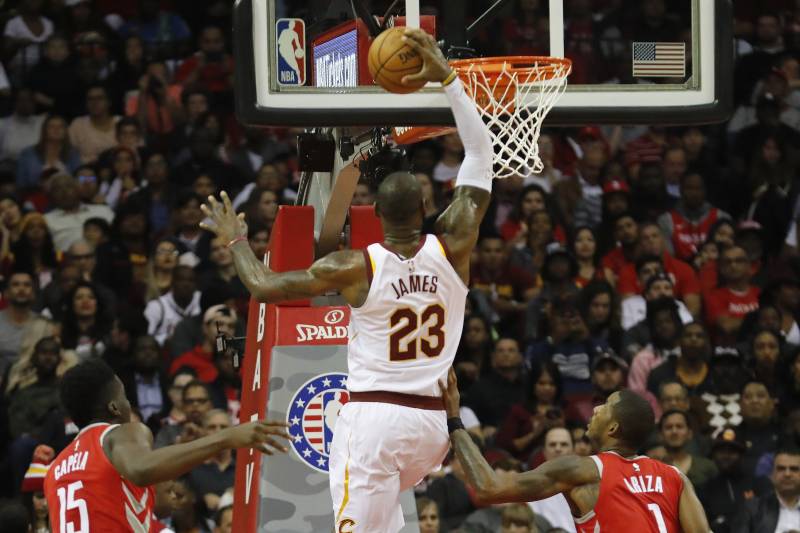 Tim Warner/Getty Images
James, in his 15th season, has somehow become even more efficient than when he was in his mid-20s. Through 21 games, he has career highs in true shooting percentage (65.7) and effective field-goal percentage (63.1) while hitting 42.0 percent of his three-pointers. Many look at the Cavaliers bench as a source of the team's recent success, but over the last nine games, James has turned into one of the league's best deep threats, hitting 47.2 percent of his threes.
If these numbers aren't enough to wow voters, James also leads the league in both fourth-quarter scoring and clutch-time scoring (the final five minutes of a game with the score within five points).
In the Cavaliers' win over the Brooklyn Nets, the starting unit was unable to build any momentum through the first three quarters. But James took over in the game's final period.
With a barrage of three-pointers and dribble drives, James tallied 23 of his game-high 33 points in the contest's final period. At one point, he scored 18 consecutive points in three-and-a-half-minute span, hearkening back to the night he scored the Cavs' final 25 points in the 2007 playoffs.
It was the kind of performance that had the folks at Elias Sports Bureau frothing at the mouth. The difference, of course, is James' famous "48 Special" night was a decade ago, and his performance against Brooklyn was authored against competitors 10-plus years his junior.
"I think it's great for the league," Miami Heat coach Eric Spoelstra told Bleacher Report of James' continued dominance. "It shows you can play at a high level if you do the right things off the court. The message has been passed along to our young players as well: You can extend your career. … You can also play the game you love for a lot longer than you could 25 years ago. But you have to make sacrifices. You have to take care of your body. You can't be out all night. You have to eat the right things. You have to be very diligent, disciplined in the weight room, all these things. There's a map now for players to play at a high level for a long period of time. Most players aren't willing to do the things necessary to do that.
Two-Man Race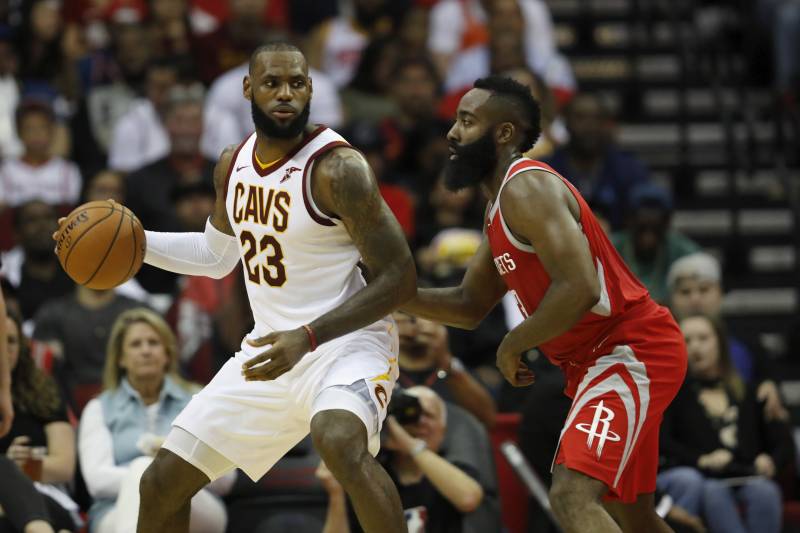 Tim Warner/Getty Images
Twenty games into the season, early MVP discussions really come down to James and Harden. After a ninth-place finish in 2016, the year Curry was unanimously named MVP (LeBron was third), Harden overtook The King to a second-place finish last year, with James sliding to fourth.
Houston's bearded dynamo is riding a league-high usage rate (35.8) to an impressive statistical start that has him leading the league in scoring (31.5), assists (9.8) and three-pointers made (94). The Rockets offense begins and ends with Harden, and the box score numbers have shown it.
Advanced metrics also paint Harden in a positive light, with the Houston guard being either first or second (behind James) in a litany of stats ranging from Value Over Replacement to Win Shares. Where James shines, however, is in a capacity that has yet to be quantified through his versatility. While Harden's rating-based metrics boil his on-court impact down to an above-average possession-based level, what these numbers don't show is the inherent flexibility bestowed to the Cavaliers thanks to James' ability to guard any position from point guard to center.
Against Atlanta on Thursday, James proceeded to produce a run-of-the-mill (for him) line of 24 points (on 11 shots) to go with six rebounds and 12 assists, but he guarded a variety of Hawks players ranging from forward Kent Bazemore to point guard Dennis Schroder. The scoring efficiency has become old hat, but James also had multiple highlight-reel-worthy blocked shots—so many that, when asked for feedback on James' monster rejection, Cavaliers power forward Kevin Love could only reply with, "Which one?"
"He's playing good defense," Cavaliers head coach Tyronn Lue said Thursday night. "He has guarded [Kristaps] Porzingis. He guarded Schroder tonight. I can't think of who else he's guarded.
"He's a great position defender against point guards, knowing how to give them space and still contest them because he's bigger."
With the departure of Irving and injuries suffered by Isaiah Thomas, Derrick Rose and center Tristan Thompson, James has been asked to fill in from the frontcourt to the back. He played point guard earlier this season and has played center during stretches of play where Lue has decided to go ultra small. When asked about his own versatility, James didn't hesitate to pile on.
"I take a lot of pride in my defensive abilities," James said. "I can guard point guards, I can guard power forwards. I take the challenge. my teammates asked me to take the challenge, and I wanted the challenge.
"Any time you're covering a small guy like that who's very fast, it's very challenging. I just tried to use my intelligence. I know the pros and cons of every player on every team and I live with the results."
New Cavs, Same LeBron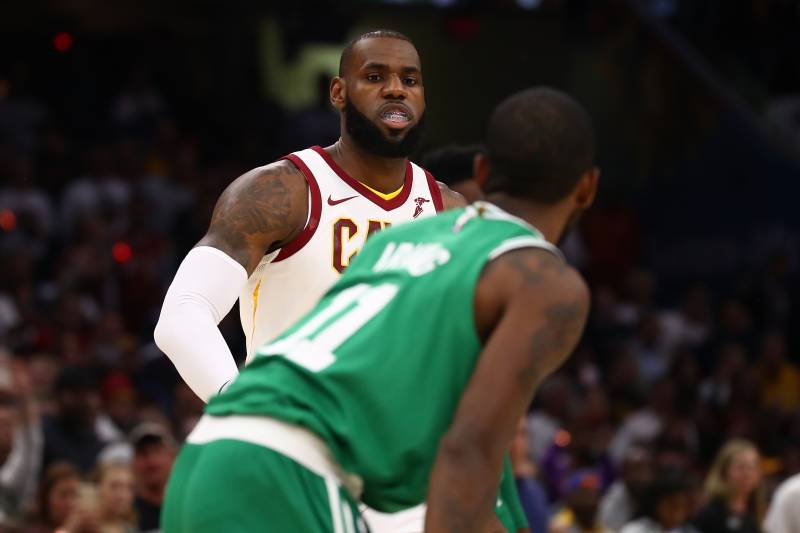 Gregory Shamus/Getty Images
Considering the roster shake-up and the team's early injury concerns, James could have easily become a more selfish player and nobody would have blamed him. Instead, he hasn't strayed from the game that has made him the greatest of his generation. His usage rate is still near 30, and he's picking and choosing his spots as needed instead of making the game about his own success.
Whether those spots include a fourth quarter for the ages or deferring during a stretch where his teammates carry the load, James is showing no signs of slowing down, despite the novelty and retweetability that can drive newer, fresher MVP candidacies like the ones Irving and Antetokounmpo are now putting together.
"We're going streaking," James said with a smile during his State of the Union, playing off of Will Ferrell's character from Old School. "It's fun times for us right now, man. It's not just about winning games; it's about how we're winning games. When you're playing the right way, you're playing for one another, you're sacrificing. … That's what makes it more fun."
Against Atlanta, James was spot on as the Cavaliers took their nine-game winning streak and turned it into double digits. Once again, he did it with a marriage of modest statistical output (by his standards) and a handful of plays that are bound to make SportsCenter the next morning.
Whether this fun style of play gets James back to the top of the MVP discussion, however, is the great unanswered question. Whether he should be at the top was answered long ago, with James adding a few more exclamation points along the way each game.