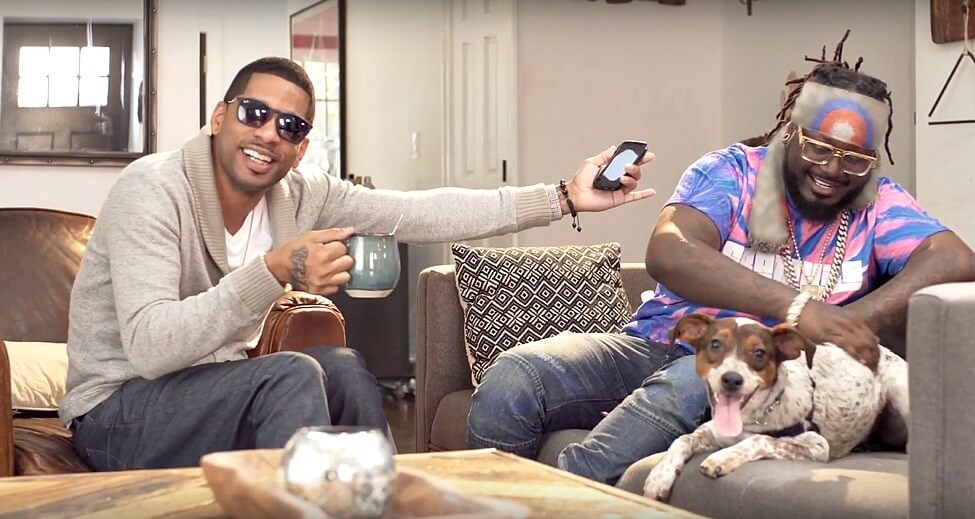 T-Pain might be known for making care-free music at times, but apparently he also can hit on more serious issues. The "Textin' My Ex" singer and his labelmate Sixx Mann team up with PETA for a new video, which features them sharing their love, devotion and loyalty to their dogs.
Not only do both Nappy Boy Entertainment talents encourage viewers and fans to treat their pets like family, but Pain also mentions how he goes above and beyond to for his canine. He says that his dog, Rallo, only wants to use the elevator in his three-story home.
"We got three stories," he explains. "Rallo doesn't even use the stairs much. Rallo likes to take the elevator. He's a privileged dog."
Sixx Mann, who recently signed to Pain's label, also discusses how treatment of animals goes a long way with how they treat you. In fact, he believes that they should be treated like children.
"Respect and attention will go a long way with anybody," he states. "So you treat your animals like you would treat your children."
T-Pain and Sixx Mann are not the only names in hip-hop to support PETA and the kind treatment of animals. In the past, D.R.A.M., Eve, Kid Ink, P!nk, RZA, Sia, and Waka Flocka Flame have all done campaigns for the organization and the better treatment of animals